Next Rockers
Overview
High-Value, Rugged & Quiet Rocker
NEXT ROCKERS are very quiet and rugged laboratory platform rockers offered at affordable prices.
Two Platform Sizes
Next rockers are available with 8 x 9 or 11 x 14 inch (20 x 23 or 28 x 36 cm) platforms.
Next Rocker Advantages
Rugged Construction
These very sturdy (and quiet!) rockers sport heavy-duty construction. A top grade Pittman instrument motor drives the rocking and an advanced pulse width modulation circuit controls the rocking speed.
Excellent Value
The simple reliable designs and Next Advance's efficiency enable these rockers to sell for much less than comparable models from other companies.
Extremely Quiet Operation
There are no quieter rockers on the market. The Next Rockers are incredibly quiet due to their high quality motor and vibration isolation mounts inside the unit.
Risk Free Purchase
All Next Rockers come with a 30 day money back guarantee and a 1 year warranty.
Features
Features
Maximum load is 11 lbs (5 kg)
Tilt angle adjustable from 1° to 18°
2 Sizes of stainless steel platforms with textured rubber mat:
– Next Rocker Pro: 11 x 14 inch (28 x 36 cm)
– Next Rocker Mini: 8 x 9 inch (20 x 23 cm)
Stacking trays (purchased separately) double the capacity
Can use in cold rooms and incubators, 4°C to 60°C (Avoid condensation)
CE/UL certified 24 volt power supply – works with most wall outlets worldwide
High speed (4 to 80 cycles/minute) and super slow speed (1 to 20 cycles/min) available. Extra slow rocking models provide better control at low speeds
1 year warranty
30 day money back guarantee
Made in the USA
Models
Platforms

Stacking Tray

(sold separately)

Available Speeds

(cycles/minute)

Max Load
Power: 24V DC
Tilt Angle: 1 to 18 degrees (all models are adjustable)
Temperature range: 4°C to 60°C (warning: rapid temperature changes may cause condensation and void the warranty).
Mats: Textured neoprene rubber
*Do not use the Next Rocker in a CO2 incubator.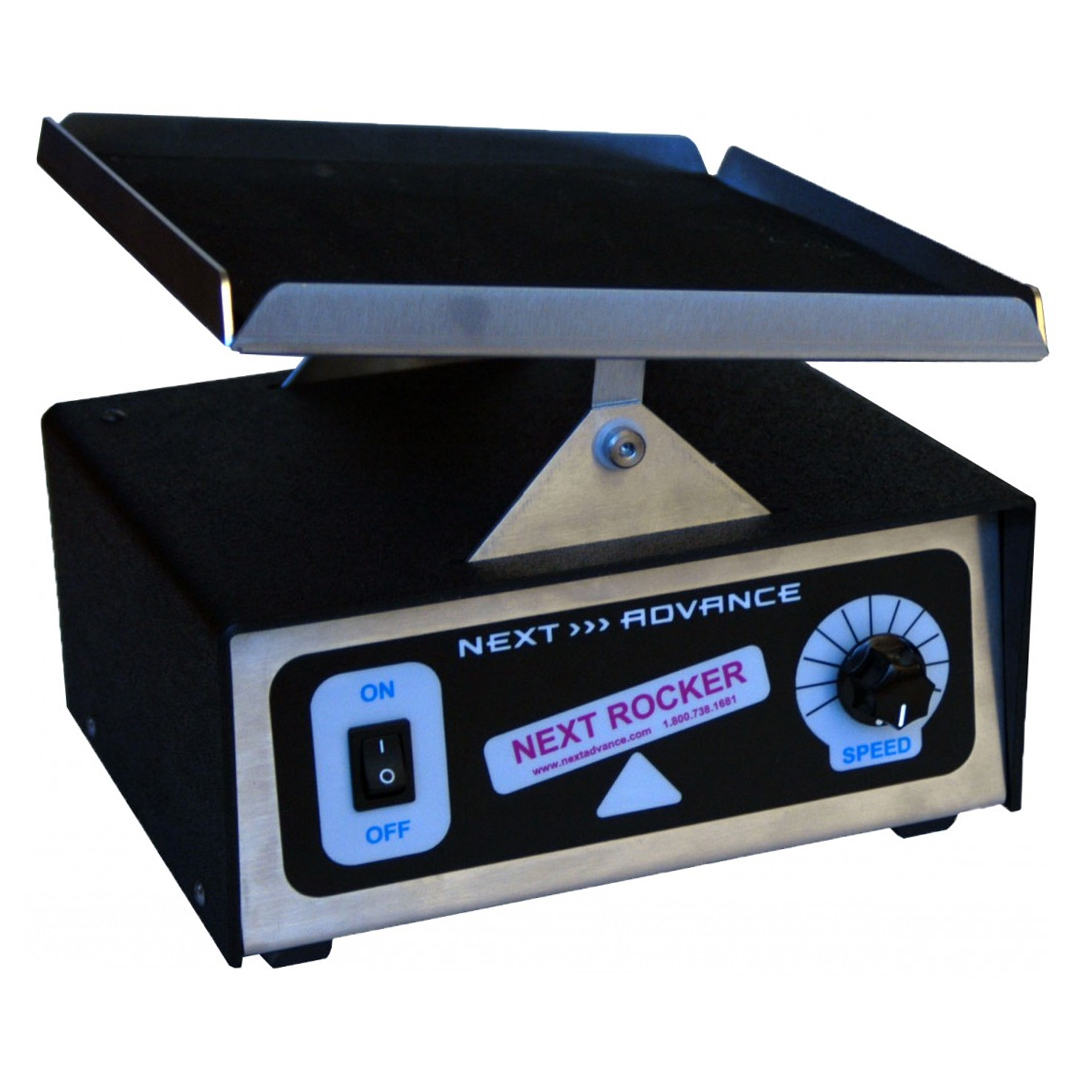 No products were found matching your selection.