Bullet Blender® Gold Models with 4°C Cooling
The Bullet Blender Gold model Bullet Blender combines dry ice cooling to keep samples at 4°C, insulation to keep homogenization quiet, and extra-powerful homogenization to give you the excellent results.
Features in all Models
Agitation:

 Vigorous agitation at a range of frequencies and in multiple directions, for thorough homogenization of even the toughest samples.

Capacity:

 Process up to 24 samples in 1.5 mL tubes, 12 samples in 5 mL tubes, or up to 8 samples in 50 mL tubes.

Cooling:

Air Cooling™ reduces heating up of samples. Ambient air continuously flows past the sample tubes and oscillation of the sample tubes ensures robust convective cooling.

Easy To Use:

 Just set the speed and time and press start.

Speed Control:

 Adjustable to handle gentle vortexing to homogenization of bones.

Worldwide:

 Power supply can be used anywhere worldwide.

CE Certified:

 All models are CE certified.

Risk Free:

 2 year warranty and 30 day money-back guarantee.

Reliable:

Made in the USA. Many customers use their Bullet Blenders for 10 years or more.
Features in 5 mL models (BT5E and BB5EAU)
Versatile:

Process up to 12 samples in 5 mL tubes or in 1.5 or 2 mL tubes with the use of respective adapters (sold separately).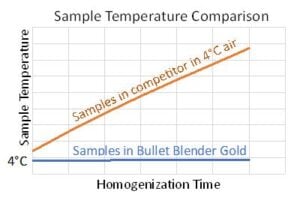 1. Samples stay cool.
The cooling in Bullet Blender Gold models is fully integrated and monitored to keep your samples at 4°C. The air is colder than the samples and adjusted as needed.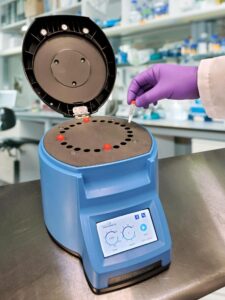 2. Easy to use.
Simply load standard tubes with sample, beads, and buffer. No fussing with tube holders.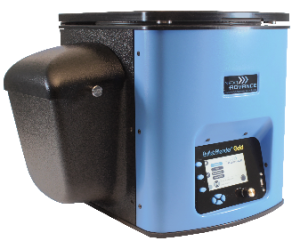 3. High value.
The innovative design, which makes the Bullet Blender so simple to use, while providing consistent, powerful homogenizing, also reduces our manufacturing cost. We pass the savings on to you.