Bead Lysis Kits
Bead Lysis Kits
Save Time with Pre-loaded Tubes!
Next Advance Bead Lysis Kits are pre-filled with bead combinations optimized to homogenize your specific tissue sample. See our recommended protocols. RNase-free or non-sterile. Available in packs of 50 or 250 for microcentrifuge tube kits and 20 or 100 for 5 mL tube kits.
Microcentrifuge and 5 mL tube kits are in stock.
---
---
Select Your Bead Lysis Kit
Click on the kit that works best with your sample
| | | | | |
| --- | --- | --- | --- | --- |
| | | 🡇 | | 🡇 |
| less buffer* | 🡆 | Pink Kit | | Green Kit |
| | | | | |
| more buffer** | 🡆 | Red Kit | | Navy Kit |
| | | | | |
| --- | --- | --- | --- | --- |
| | | 🡇 | | 🡇 |
| specialized | 🡆 | Yellow Kit | | Orange Kit |
* 100 – 300 µL of buffer in 1.5 mL tubes, 0.5 – 1.2 mL of buffer in 5 mL tubes
** 300 – 600 µL of buffer in 1.5 mL tubes, 1.2 – 2.5 mL of buffer in 5 mL tubes
Have any questions or need more help?
Contact your sales representative for further assistance.

---
Lysis Beads
Lysis Beads
The Bullet Blender uses homogenization beads to strike and grind your samples. You may choose from a variety of beads suitable for a wide array of samples. The general rules of thumb for choosing the correct beads for your sample are:
Choose beads with higher densities for tougher samples
Choose smaller sizes for tiny samples and cell culture
Choose larger sizes for tough samples and special applications
Beads are available RNase free, pre-loaded in Bead Lysis Kits, and in Sample Bead Packs for different types of applications. Please see our recommended protocols to determine the appropriate bead or bead lysis kit for your sample.
General Usage Guidelines
Use a volume of beads that is at least half the volume of liquid in the tube. Using too few beads may lead to poor homogenization. For help determining the appropriate volume of beads, use the bead calculator.
Use a size of bead proportional to the size of your sample. For very small samples, such as cell culture or tiny pieces of tissue, use our smallest beads (0.2mm or below). For large chunks of tissue, beads 1.0mm or greater may be needed (Beads larger than 3.5mm are not recommended for microcentrifuge tubes).
For tougher tissue, use denser beads (e.g. zirconium oxide and stainless steel). With soft tissue you can use less dense beads (e.g. glass and zirconium silicate).
For isolation of organelles, use larger beads (0.5mm or larger for cell culture, 1.0mm or larger for tissue)
Protocols have been developed for various sample types so you can spend less time optimizing your experiments and more time getting results. Please see our protocol page for more information.
Bead Sample Packs are convenient for method optimization, or for labs that homogenize several different sample types. Sample packs come with a 10 mL tube of each type of included bead, EXCEPT the BSP-50B for 50 mL tube Bullet Blender models, which comes with 20 mL of each included bead type.
Bead Composition
During the vigorous agitation of the homogenization process, denser beads have more momentum, resulting in more energetic impacts with the samples. Dense beads, like those composed of stainless steal, can homogenize tougher samples. Such powerful beads do, however, cost more to manufacture. Another consideration for optimal homogenization is the size of the bead. Finally, alternative bead shapes can be used to further improve homogenization of tough samples. Stainless steel beads are available with a ridge. These "UFO" shapes are useful for slicing and grinding tough samples.
Types of Beads
---
Select Beads
Tubes
Tubes
This page lists the tubes that are verified to work with each specific Bullet Blender. Next Advance does not recommend other tubes. Other tubes may have different dimensions and prevent thorough homogenization. They may also crack and leak during vigorous agitation.
Microcentrifuge Tubes
---
5 mL Tubes
---
50 mL Tubes
---
Tube Racks
---
Select Tubes
Contact Plates
Contact Plates
---
Bullet Blenders are fitted with a contact plate that matches a specific kind of sample tube. Contact plates create a distance from the top of the sample tubes for optimal homogenization.
The models (Storm Pro BT24M and BB24-Gold) that use two types of 1.5 mL sample tubes (Eppendorf® and RINO®) come with two different contact plates; one for the Eppendorf tubes, and one for the RINO tubes.
STORM PRO – EPPENDORF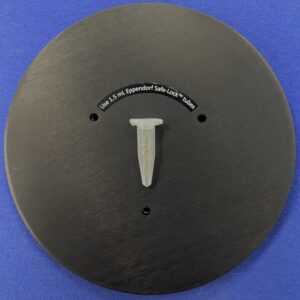 STORM PRO – RINO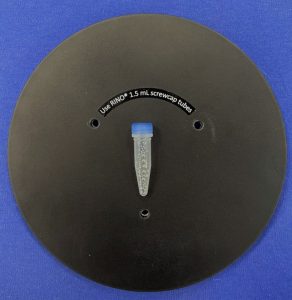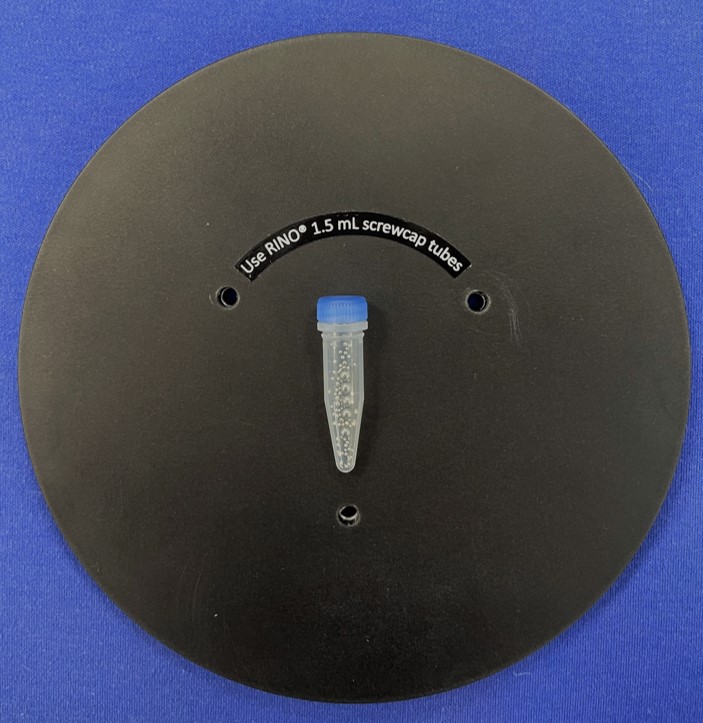 GOLD – EPPENDORF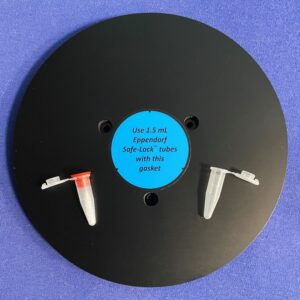 GOLD – RINO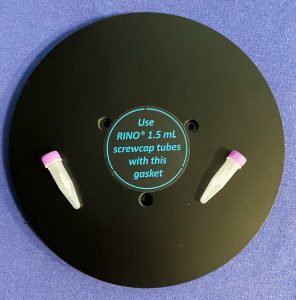 It is important to match the contact plate installed in the instrument to the tubes being used. Using the incorrect contact plate may result in poor homogenization or prevent the cover from fully closing.
Changing out the contact plate on your machine is quick and easy. See the instruction video here. Just unscrew the contact plate that you do not want with a standard Phillips screwdriver and save the three screws. Then using the three screws, tightly screw the appropriate contact plate onto the instrument. Once it is secure you may place your tubes into the instrument, close the lid, and run the machine.
Accessories
Accessories
---
Tube Adapters
Tube adapters enable you to use microcentrifuge tubes in the Bullet Blenders designed for 5 mL snap cap tubes, models BBY5E, BT5E and BB5EAU.
Know your tube adapters! Use must use the correct adapters for the tube type you are using to get the maximum benefit. Please check here for a complete list of compatible tubes.
---
The Magnetic Wand
Use this hand-held wand to easily remove stainless beads from homogenate.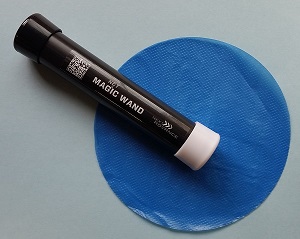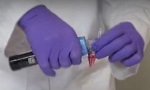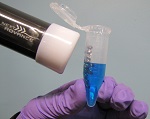 Make stainless steel beads levitate out of your sample with the "magic" Magnetic Wand. A very powerful magnet in an easy-to-handle package helps you remove beads from your sample tube before centrifugation. Disposable protective shields are available to prevent cross-contamination. May not be compatible with all bead sizes. Learn more.
---
Select Accessory
Spoons and Spatulas
Spoons and Spatulas
Use spoons and spatulas for dispensing beads into sample tubes.

100 µL Microspoons

500 µL Microspoons

1.2 mL Spoons, Sterile
---
Select Spoons and Spatulas
Quickview

Measuring Spoon 100 uL RNase Free, pack of 10

$

72.00 Add to cart
Quickview

Measuring Spoon 100 uL, pack of 25

$

59.70 Add to cart
Quickview

Measuring Spoon 500 uL RNase Free, pack of 10

$

76.30 Add to cart
Quickview

Measuring Spoon 500 uL, pack of 25

$

62.80 Add to cart
Quickview

Measuring Spoon, 1.2 mL, sterile, pack of 20

$

70.80 Add to cart
Quickview

Measuring Spoon, 1.2 mL, sterile, pack of 200

$

450.60 Add to cart
Bead Calculator