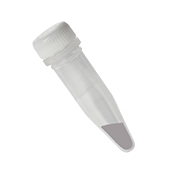 RINO® kits consist of our RINO tubes, which have a screw-cap so they seal more tightly and provide an extra layer of protection against sample loss. RINO tubes are recommended when TRIzol is used as the homogenization buffer or when homogenizing hazardous samples. RINO tubes can be used in Bullet Blender® Gold 24 (BB24-AU) and Bullet Blender Storm 24 (BBY24M) units.
Learn more about RINO tubes!
Microcentrifuge tube kits are in stock. Contact us for kits for 5 and 50 mL tubes, and custom kits. There is no setup cost for custom kits.
For help selecting the correct kit, see the bead lysis kit selection guidelines.
---