Overview
Infinity Rocker™
The Long-Life Laboratory Platform Rocker
The last rocker you will ever need to buy! The Infinity Rockers are designed with constant, heavy-duty use in mind, and they will last for many years – unlike all those rockers with one-year warranties. Ultra quiet, they are ideal for many applications including: mixing, gel staining and destaining, blotting, cell culture, hybridization, washing, etc…
Two Platform Sizes
Infinity Rockers come in models with: 11 x 14 and 8 x 9 inch (28 x 36 and 20 x 23 cm) platforms.
Stacking Trays
Removable Tier-2 stacking trays double the support surface area. The trays just snap onto the platform and their spring loaded legs hold them securely in place.
5 Year Warranty
We offer a 5 year warranty because Infinity Rockers are solidly built in the USA. The rugged construction includes heavy duty chassis and platforms. Long life brushless motors drive the rocking. These rockers are designed to run for many years of continuous use.
Digital Speed Control
The Infinity Rockers have a microcontroller to accurately control the speed. The speed will remain constant, even as heavy items are added or removed from the platform. And the rocking can be paused and resumed by flipping a switch. Rocking speed can be set from 6 rock cycles an hour (0.1 per minute) to 80 per minute in increments of 1 cycle per minute. For even slower rocking, or even be stationary with punctuated periods of rocking with custom programs, see our RoboRocker.
Extremely Quiet Operation
The Infinity Rockers are incredibly quiet due to their high quality motor and vibration isolation mounts inside the unit.
Programmable
For programmable rockers, such as for microfluidic applications, see our RoboRocker.
Custom Sizes
Get a rocker that fits your needs! Upon request, rockers can be made to accommodate specific platform sizes and weights.
Rugged Construction
These very sturdy (and quiet!) rockers sport heavy-duty construction. A top grade brushless motor drives the rocking and ensures very long life.
Tilt Angle Adjustment
Loosen the screw on the back of the rocker and slide the linkage toward the center (to decrease the tilt) or perimeter (to increase the tilt) and then tighten the screw.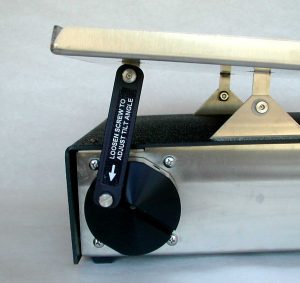 ---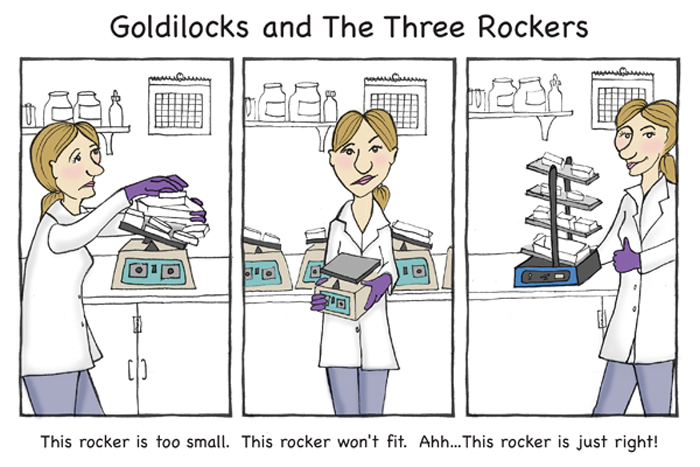 Features
Infinity Rocker™ Features
Maximum load is 11 lbs (5 kg)
Large easy to read digital display of speed
Speed adjustable from 0.1 to 80 cycles per minute, in increments of 1 RPM.
Rocking speed remains constant over time. Even if weight is added or removed
Unique specialized rocking, such as built-in pauses and asymmetric rocking*
Tilt angle adjustable from 1° to 18°
Platform sizes:

Infinity Rocker Pro: 11 x 14 inch (28 x 36 cm)
Infinity Rocker Mini: 8 x 9 inch (20 x 23 cm)
Infinity Rocker Custom Sizes upon request

Platforms have a textured rubber mat
Stacking trays double the capacity.
Can use in cold rooms and incubators, 4°C to 40°C (avoid condensation)
Resistant to CO2 environments up to 10%.
CE/UL certified 12 volt power supply – works with wall outlets worldwide
5 year warranty
30 day money back guarantee
Made in the USA
Models
Infinity Rocker™ Models
Power: 12V DC
Tilt Angle: 1 to 18 degrees (all models are adjustable)
Temperature range 4°C to 40°C (warning: rapid temperature changes may cause condensation and void the warranty). The Infinity Rocker may be used in a CO2 incubator.
Mats: Textured neoprene rubber

---
Infinity Rockers – Long-life and Digital Speed Control
---
Stacking Trays and Additional Platform for Multi-Tier Infinity Rockers
Stacking Trays
Stacking Trays and Additional Platforms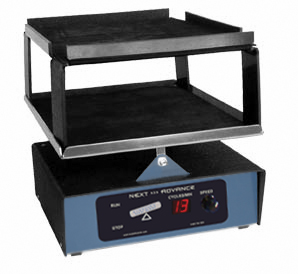 Tier-2 stacking trays are available for all Infinity Rocker models. These rugged trays double the support surface area of single platform rockers. They are constructed of heavy gauge ABS plastic for ruggedness and have a textured neoprene rubber pad.
You can place a stacking tray on a platform, as pictured on an Infinity Rocker Pro, or remove it when desired, without any tools. The spring loaded legs hold the stacking tray in place. There are 4 inches (10 cm) of clearance above the main platform.
---
FAQs
Infinity Rocker™ FAQs
Specifications
Will these rockers work with different voltages (in different countries)?
Yes. The rocker uses 12V DC supplied by a small external power supply that plugs into a wall outlet. Next Advance will supply the appropriate power supply for the local power and wall outlet configuration.
What is the maximum load?
The rocker can handle 11 lbs. (5 kg).
What is the range for the tilt angle?
The amount that the rocker platform tilts back and forth can be adjusted from as little as +/- 1 degree to as much as +/- 18 degrees.
What is the rocking rate?
For Infinity Rockers, the rocking rate can be as slow as barely moving to a maximum speed of 80 cycles per minute (160 rocking motions per minute).
Can I use these rockers in incubators or cold rooms?
Our rockers can operate in incubators or cold rooms (down to 4°C) if the temperature is kept constant and the humidity is not excessive. Temperature swings which cause condensation will damage the electronics and void the warranty. In fact, the electronic circuitry includes additional heat sinks to ensure reliable operation at elevated temperatures.
Operation
How do I adjust the tilt angle?
To adjust the angle, use a flat blade screwdriver to loosen the labeled screw on the rear of the instrument, slide the linkage to the desired position, then tighten the screw.
How do I adjust the rocking rate?
You can turn the knob on the front of the instrument to adjust the rocking speed.
Can I clean the rubber mat?
Yes. You can remove the rubber mat from the platform and clean it with soap and water. Let it dry before placing it back on the platform.