Verification on the spot.
Want to measure liquid handling robot or multi-channel pipette accuracy …  in seconds? See the Checkit® Go.
Test your pipettes SAFELY accurately & instantly… Checkit yourself!
Having a service enter your facility to recalibrate your pipettes just isn't worth the risk – or the wait. Verify the accuracy of your pipettes the safe way – Checkit® yourself with our easy to use disposable cartridges, and leave your worries behind.
Why take chances with your sample analysis?
Evaluate the accuracy of your pipettes in seconds with our convenient Pipette Checkit® cartridges. Low-cost, fast, and easy to use, the Checkit can save money on calibration services while giving you the confidence that your pipettes are delivering accurate volumes. No more trying to read a tiny droplet's weight on a high-precision balance.
Whenever you need a fast, quantitative assessment of a pipette's accuracy, just pull out a Checkit. Available for various size pipettes, the Checkit checks your pipette's accuracy at the bottom, middle and top of its range. Wouldn't it be nice to know whether a pipette needs recalibration, or if lab personnel could use a brush-up on their pipetting technique? With the Checkit, a clear answer is seconds away.
Many pipette manufacturers recommend regular in-laboratory checking of pipettes in addition to good maintenance and scheduled calibration. The Checkit provides a valuable early-warning system for a pipette that may be drifting out of calibration.
Confidence in your experiments
No worrying! Do your experiments with confidence, knowing that your pipettes are delivering accurate volumes.
Instant, easy verification, anywhere
No waiting! Evaluate pipette accuracy on the spot in just seconds – no matter where you are. Why mess with a high-precision balance?
Checkit is fast and easy. And no worries about evaporation or air currents. Your measured drop is encased in a glass tube within seconds, so the values won't change while you're trying to read them.
Keep Checkits in the lab for instant confirmation of pipette accuracy. Especially useful if your pipette has been dropped, cleaned, or borrowed. Don't take a chance when you're setting up an experiment with precious samples or expensive reagents.
Perform checks regularly to watch for performance drift – get early warning before there's a problem.
Train students and technicians
Good pipetting technique is an important part of laboratory success. Use the Checkit as a training tool to verify proper technique. The Checkit requires no special training and is easy to use even for novice lab members.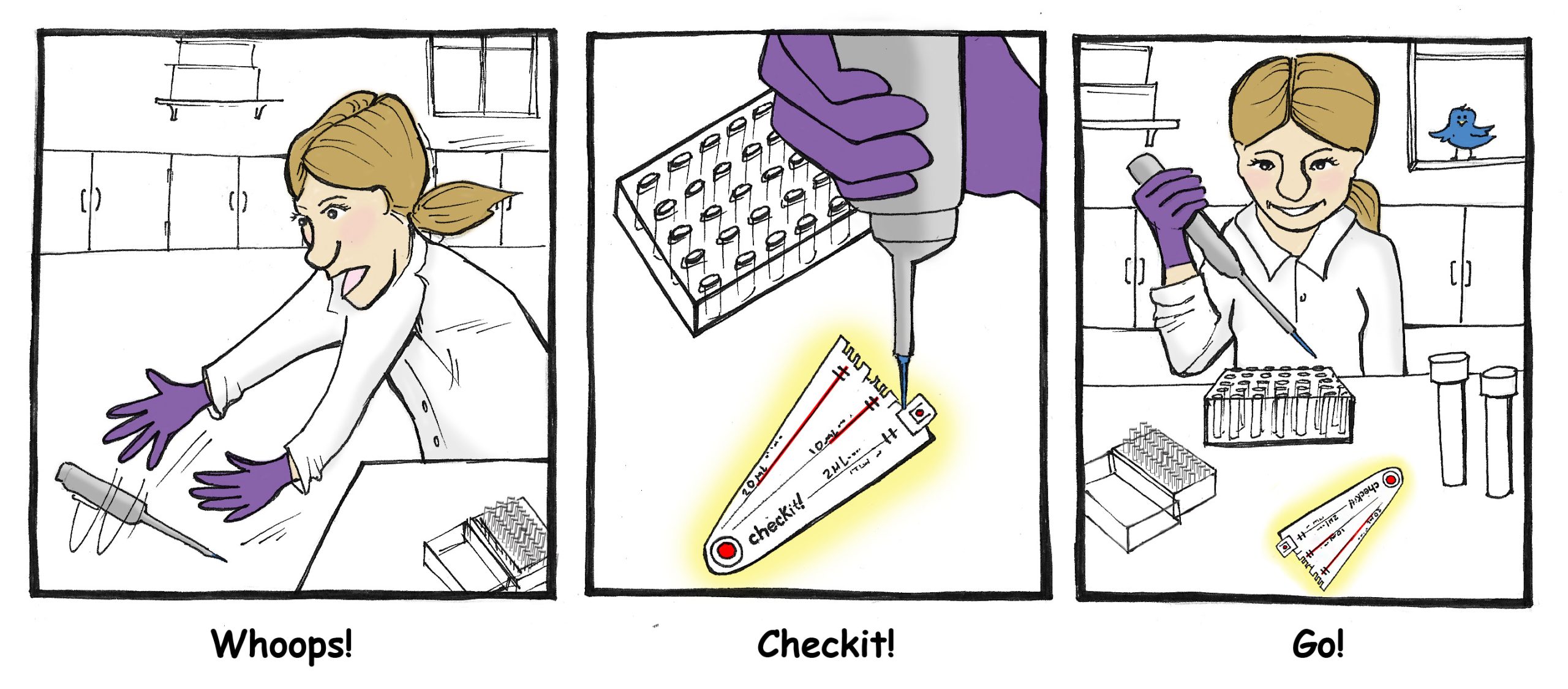 "Checkit is very easy and quick to use with excellent accuracy. It's design is modern, simple and self-explanatory. The lightweight Checkit will be a nice and cool widget that any pipette user world love to add into her/his shelf." Zhongyuan Kan, University of Pennsylvania
"We were able to give them a try, checking the calibration versus a number of recently calibrated pipettes. The Checkits looked pretty accurate and were very easy to use." Patrick Ingram, University of Wisconsin